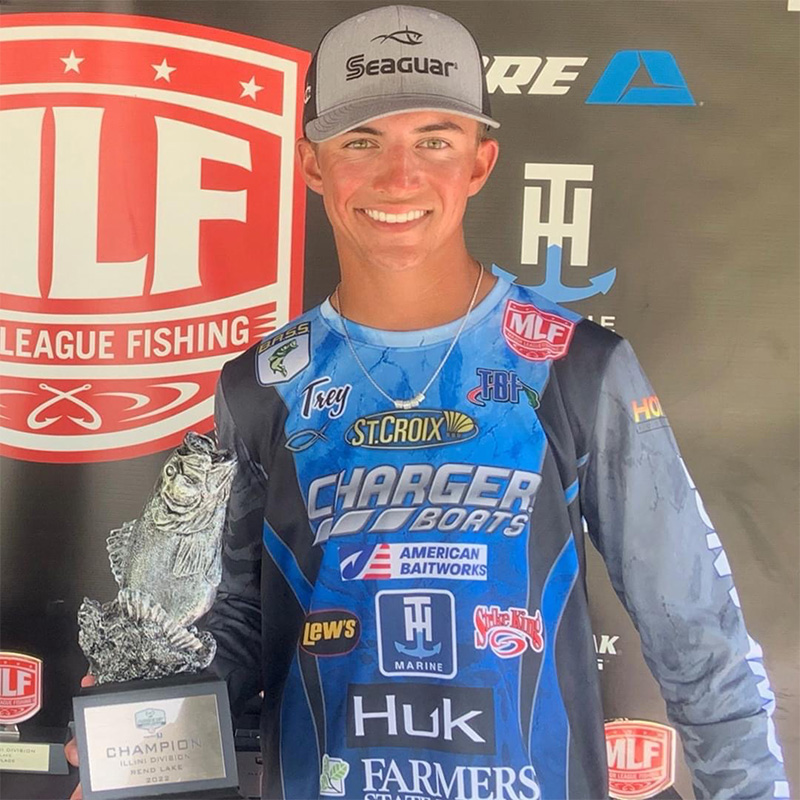 Trey McKinney
Pro Team Member Since 2019
Faith…Family…and an unequalled passion for the outdoors…17-year-old Trey McKinney names these traits as the foundation for his extraordinary success as a youth tournament angler. Fishing with acumen beyond his age, in 2018 at the age of 13, Trey accomplished the unprecedented task of winning the TBF FLW Junior World Championship, the Junior Bassmaster National Championship, AND was the USA Bassin Next Generation Classic Champion, all in the same year.
Fishing from his home State of Illinois, Trey won the Illinois B.A.S.S. Nation Junior Championship three consecutive years, and also won the Illinois Bass Federation Junior State Championship two consecutive years. At 16 years old, Trey won his very first boat by winning the 2021 USA Bassin Bass Cat Classic Championship. Now, this 16 year-old prodigy has set his sights higher, fishing in the MLF Phoenix Bass Fishing League series in the Illini Division tournaments against adults. Trey was admittedly nervous when fishing his very first BLF tournament on Rend Lake in Whittington, Illinois, however he then felt completely at home after spectacularly finishing 3rd in that tournament. Following that success, Trey then placed 5th in the very next BFL tournament on Lake Shelbyville and has won Angler of the Year two years in a row. Trey is the only 16-year-old fisherman to ever win an Angler of the Year award in a major fishing tournament circuit. 
In 2022, Trey has stepped up into the Toyota Series Championship presented by A.R.E. where he qualified for regionals among other strong finishes.
"Gonna be SMOKE on the water-this kid is on fire! Charger Boats is proud to congratulate Trey McKinney on his new 210 Elite and honored to have him on our team promoting our boats.  His accomplishments speak for themselves, and definitely will be one of the next big rising stars in the fishing industry.  Keep an eye on him, he one day could be the Bassmaster Champion!" – Joe Dorris